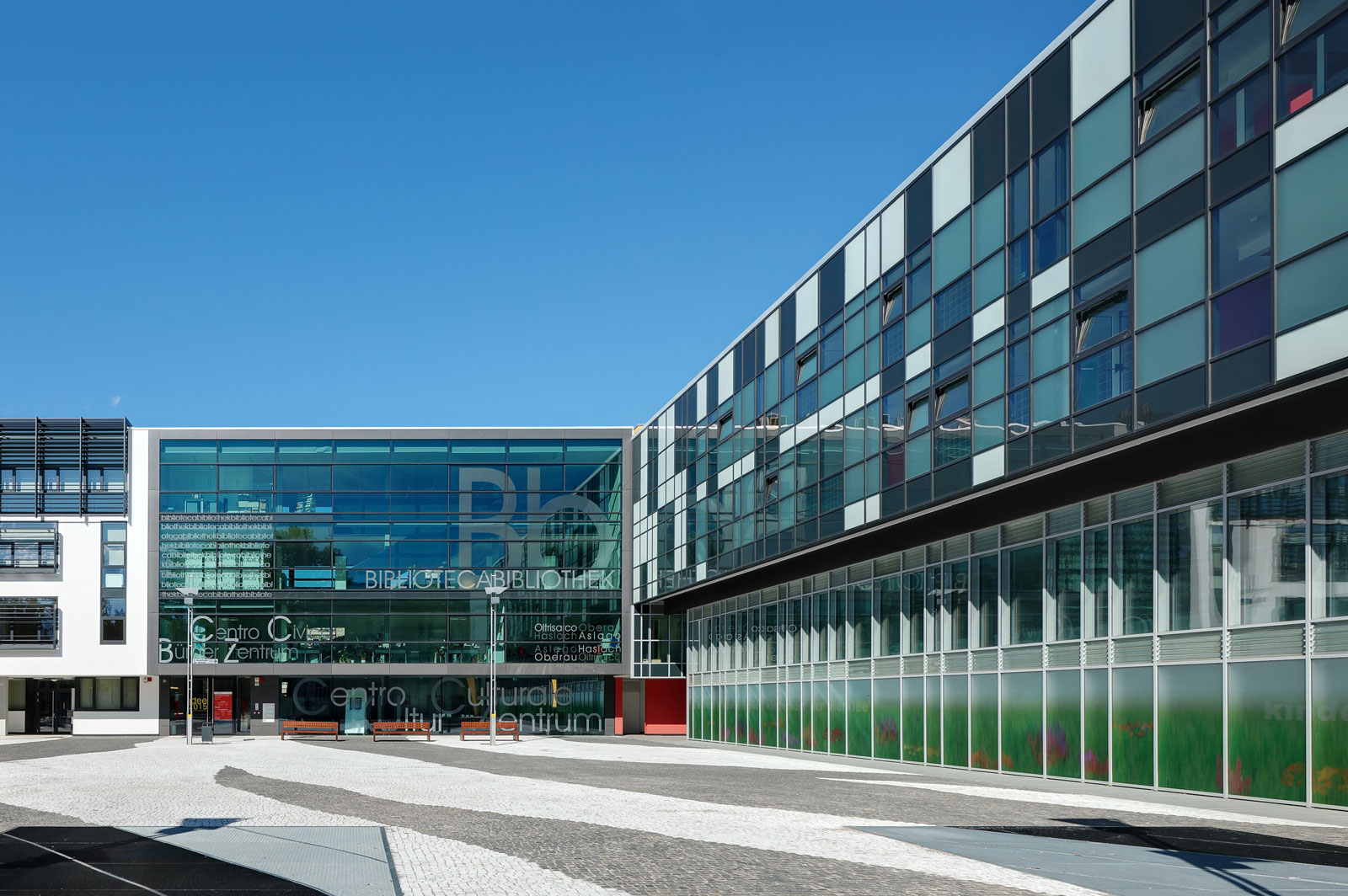 Rosenbach – Bolzen (Italy)
4 May 2019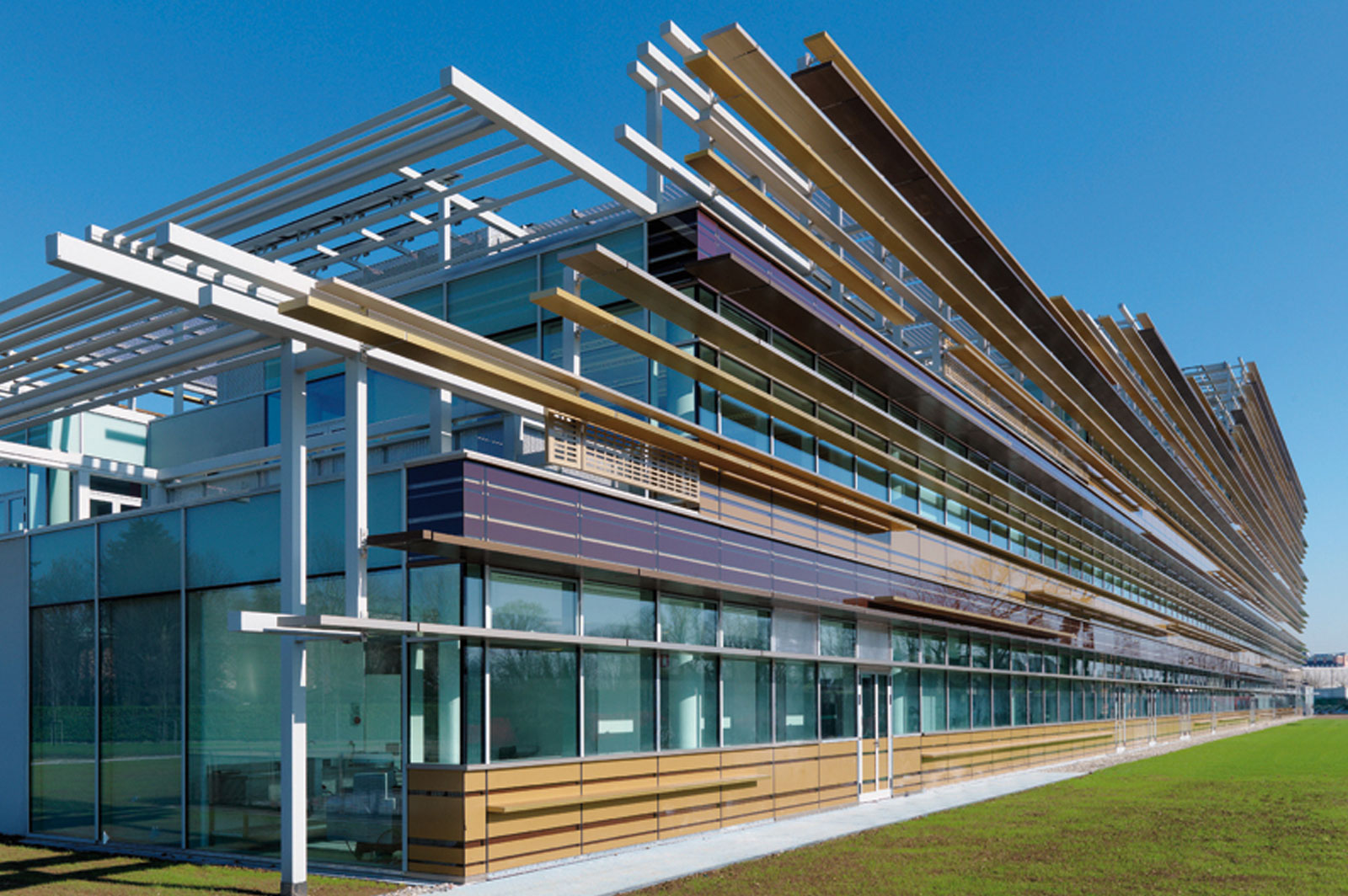 New 3M Headquarters – Pioltello – Milan
4 May 2019
Client:
Somec SpA, San Vendemiano (TV)
Architect:
Artec Studio - Ing. Magnoler
Customer:
Somec SpA, San Vendemiano (TV)
The "double-skin" façade (in energy recovery) has been directly realized by Somec Spa for its own headquarter and it represents a correct mediation between the most recent, iconic, all-glass architectures and an advanced technology about the inner comfort's optimisation.

Outer Skin:
The façade's glass is in Optiwhite type, 12 millimetres thick, tempered in HTS processing. The bearing fins are in tempered glass in Optiwhite type, 15 millimetres thick, with a special HTS processing; the fins are "bump style" fixed through stainless steel plates; all of the façade's accessories are realized in 316I stainless steel.

Inner Skin:
The mullions' profiles are composed of aluminium holed-blades, 17 millimetres thick, hung up in the upper garret. There is a low-carbon insulating glass in Optitherm white.
Filtering tent:
It is positioned in the air chamber, between the outside skin and the inner-skin. It is realized with the use of a micro-filtered rollable tarp and it is held in tension with horizontal cables.
The bearing all-glass structure has been realized with the Planar system (by Pilkington Architectural soc).
Somec and Studio Artec, have defined the architectural needs, which have been then engineered in collaboration with the Studio Cattivelli. The technical solutions, which have been chosen in progress, were the result of the partnership between the Somec's technical structure and the Studio Cattivelli, particularly about the innovative and experimental part and about the intention of creating an "all-glass" effect, as an alternative to the traditional project standards.The designers of the 2 Societies had coordinated, dividing their roles (in basis on their skills) for the interface's study of the forced ventilation's systems, in the middle chamber.
The internal comfort's results, about the acoustic, the lighting, the thermal and the hygrometry, are high-performance, getting over the project's expectations, obtaining, moreover, an energy average use of 60%.
Each executive detail has been treated with the maximum care, to realize an excellent architectural quality and to preserve the maximum possible transparency.
The double-façade guarantees an energy recovery in each season.
In summer, the air is directly cooled by the thermal exchange with the ground water and, then, it is placed in the chamber (between the 2 skins) to maintain a middle temperature between the inside and the outside of the building.
In winter, instead, warm and recovery air is placed for bringing an optimal temperature to the double-skins crawlspace (and for an optimal comfort in the many ambient).
The solar radiation's filter is realized with a filter tent.