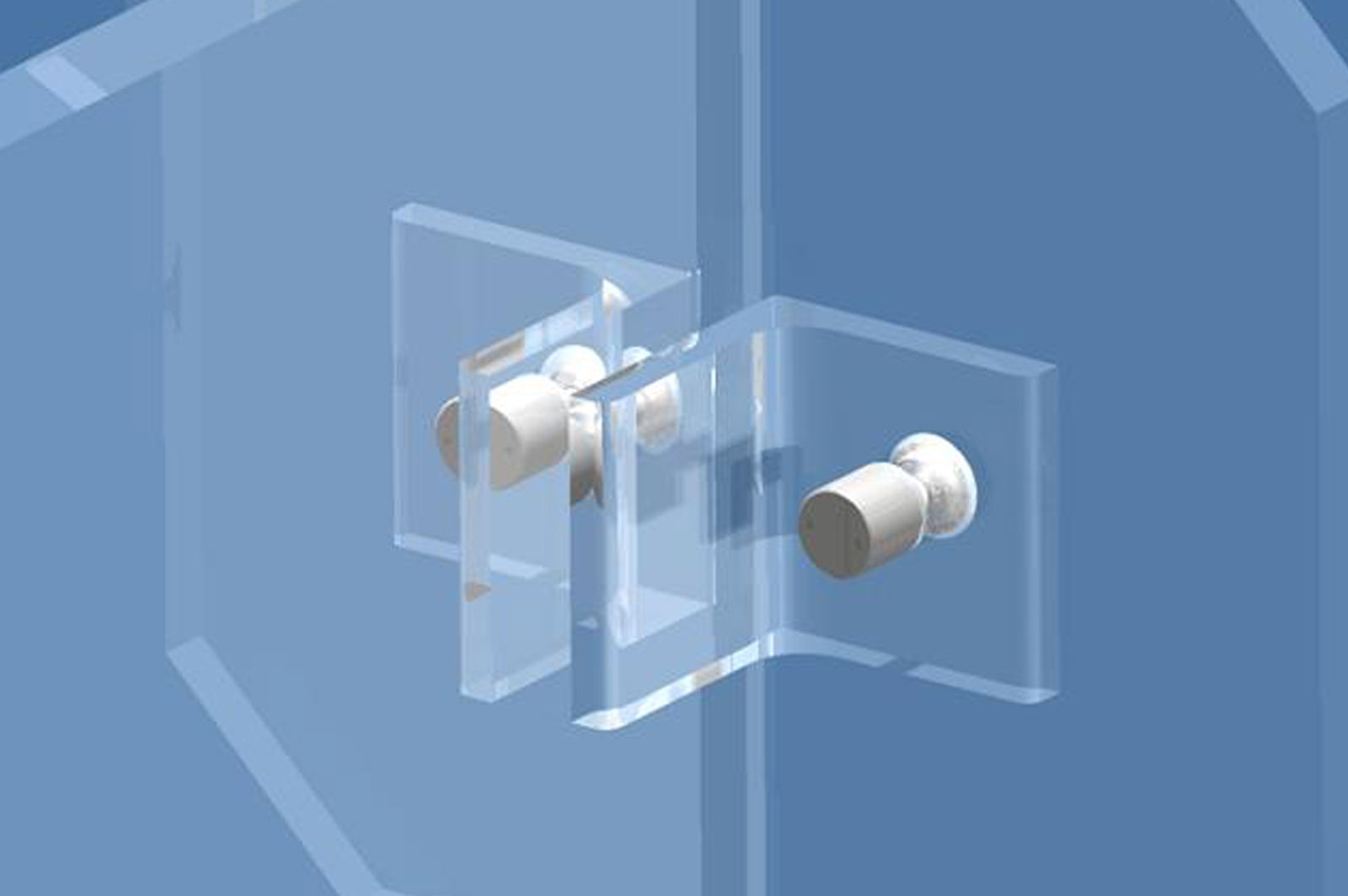 Scai Tech Glass – Studio Cattivelli
4 May 2019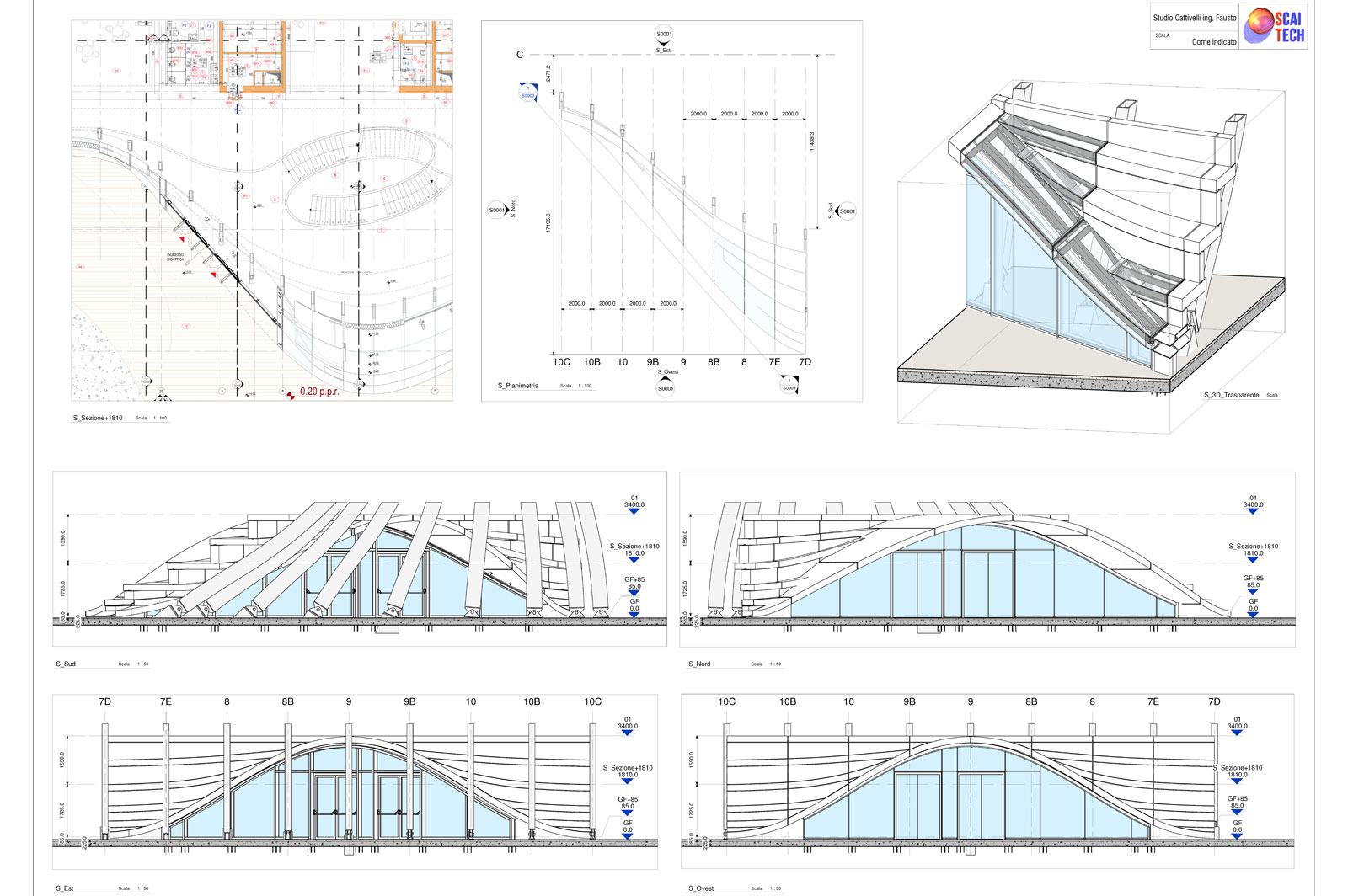 North entrance of Aosta's University – Construction project and BIM
21 December 2020
Client:
Regione Val D'Aosta
Architect:
Mario Cucinella Architects srl, Bologna
Customer:
Univallèe
Developer:
Univallèe Scarl, Saint Christophe (AO)
The project of the university's new seat, is different from the other ones for the choice of the materials used in the several prospectuses.
The west prospectus is composed by a full-lenght façade that surrounds the building's big hall; the main bearing structures of the façade are set up by the "steel centerings" placed on the parallel levels 2 metres distant to each other. They are variously shaped to achieve the fluid shape of the prospectus.
The Studio MCA designed an architectural composition of the prospectus in horizontally scorings. These are curvilinear in the plant and they alternate (following the vertical line) the box type elements (20 centimetres high) "in external surface, in Betacryl Solid Surface), bump fixed, through steel blades, to the centerings"; with the tapings, that are composed by glasses inserted in thermal-cutting guides, and isolated panels in sheet, in "polygonal trend". Also, these tapings adapt to the geometries and to the several flat curves, of the Solid Surface, sited in the several levels.
For the geometric shape of the project (where each component results to have unique dimensions) and for the insert in the façade (of the bearing box type elements in Betacryl slabs 12 millimetres thick) to the sealed walls, supported by composite and insulating material, the façade, generally, realises an "experimental prototype" project, and, also, it has been subject to hard tests for obtaining the CE mark and following the existing norms.
The façade system has been named with the commercial name "Chateau Blanc", also for its varied shades, adopted from the architect to reproduce a piece of an ice wall.
After the tests (executed according to the more elevated required standards, resulting positives), the façade's hall has been classified by the UNI EN 13830 norm, and integrated with some additional and voluntary tests for the durability against the environmental and thermal cycles. It is also classified with "reaction to fire" according to the UNI EN 13501-1 norm, achieving to the Bs1 d0 Class in its complex, having tested also the existing facades' sections and the expansion joints between the several tanks positioned on the centerings' median plane.
The box type elements in Betacryl are, then, divided in 2 reconstituted half bearings, along the glasses' median plane and along the panels, where special thermal-cut profiles are inserted. They are necessary for upgrading the façade's performances during the rigid winters in Aosta city; the average façade transmittance has been verified by the Studio Cattivelli using the calculating programs, also considering the several configurations of the façade's sections, achieving to a thermal transmittance Ucw=1,06 w/m2k.